Over the past three years, I've released more than 150 podcast episodes.
However, it was only from the start of this year that I began to take content repurposing more seriously. Here's what that looks like.
Now when I record a 45 minute podcast interview, it gets broadcast live – to LinkedIn, YouTube and Facebook.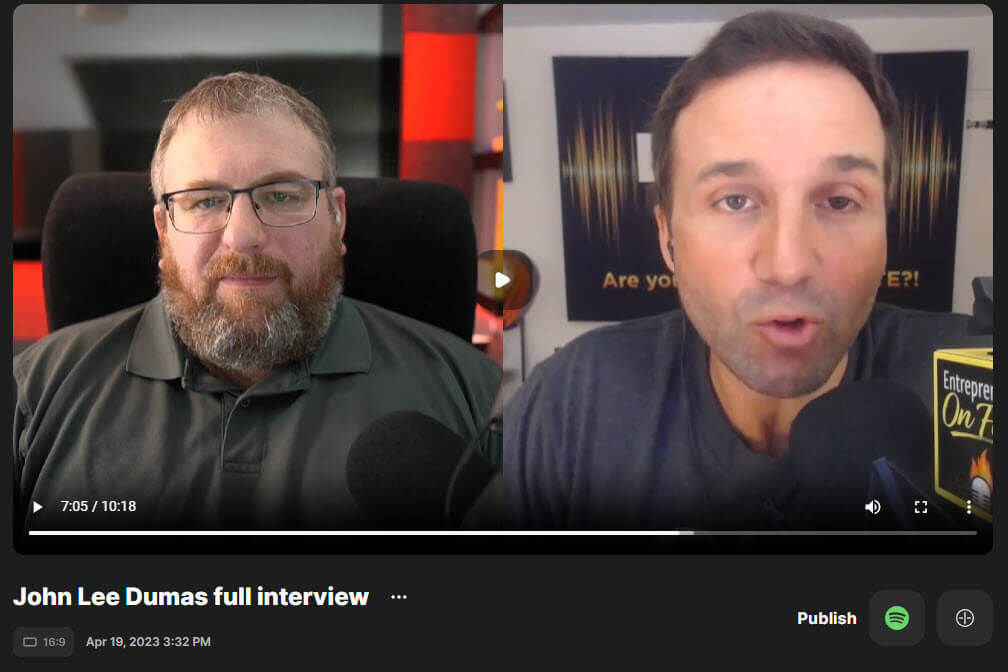 That full live broadcast is a YouTube video on my channel, and is published as an audio podcast episode at 06:01am on Monday morning.
There's a podcast episode page on my website that includes the full YouTube video, a podcast audio player, show notes from the podcast including episode description, guest bio, links to resources and books mentioned in the conversation, and a full text transcript of the conversation.
The most recent addition to my team is a video editor (hey Matty!). He's usually going through all the previous interview video to create highlights, but for this particular episode, he's going to create five 60-second short video clips. We'll add a text description for each one, and then we'll have a short video clip to publish to promote the episode – and build my authority – going out every single day of the week on LinkedIn, YouTube, Instagram, Twitter and even TikTok.
The full episode is promoted another day, and he'll edit the 5 clips together as a highlights package of the episode to go out on YouTube (which will perform better than the long form video).
That took me an hour
If I'm good, that all takes me less than an hour of my time, including the 45 minute interview.
The total time that I absolutely have to commit to in order to get all of that content creation and publishing, including the 45 minute interview is ~55 minutes, and that's because I like to chat to the guest for 10 minutes in the pre-show.
It took time to get to this level of output: I started off with a simple, pre-recorded audio-only podcast and layered on top of that as I learned more about content creation.