Point of view is something that can distinguish you from the crowd.
It's important, perhaps even essential, in building your authority and personal brand.
It's also one of those concepts in marketing that is frustratingly hard to define: it seems to incorporate perspective, tone, voice, positioning, branding, and – above all – opinions.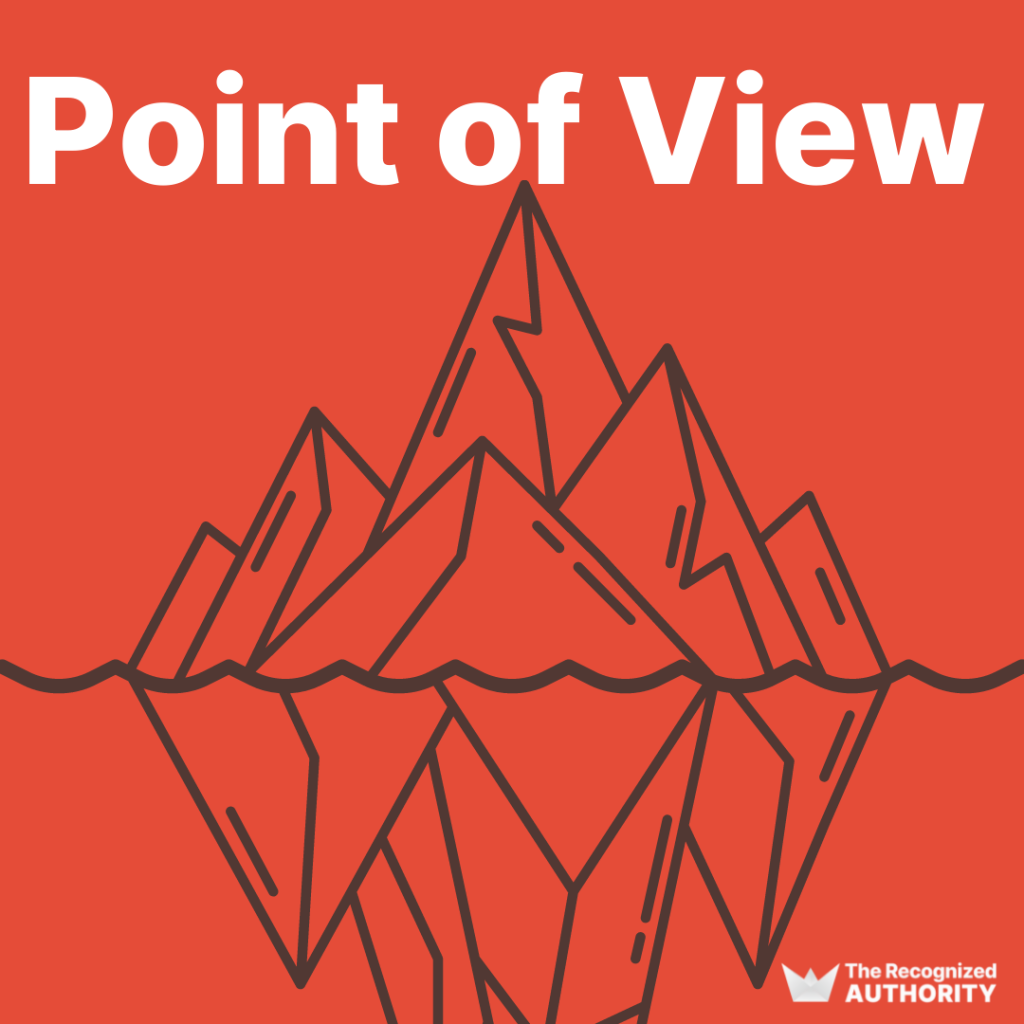 Regardless of definitions, we seem to recognize a point of view when we see it.
It's how Jonathan Stark talks about hourly billing, or Blair Enns talks about procurement, or how Alan Weiss talks about just about anything:
Jonathan believes that hourly billing is nuts, and uses that to frame most of his writing and speaking.
Blair doesn't think that procurement has a place in the conversation when it comes to expert services, and he's pretty upfront about it.
Alan likes to poke people because "people need to be poked" or they will not grow and innovate.
They use their points of view to distinguish them from the countless other folks in their marketplace.
What's interesting here is that the points of view I've listed are not necessarily their primary point of view.
For example, in Blair's case the procurement issue is only a side opinion – but certainly strongly held – and his point of view that you can "win without pitching" is so important that it's actually his company name too.
Let's see if we can get a bit granular on point of view:
It's usually a strongly held opinion or group of related opinions.
Often counter to prevailing beliefs even to the point of being controversial. In fact, being somewhat controversial is beneficial.
It must be defensible.
For example, I have some points of view on positioning and business development for consultants:
I believe that trust is the most important factor in b2b sales.
I believe that referrals are dangerous.
I believe that inbound is superior to referrals.
I believe that inbound for experts means building authority.
I believe that specialization is essential in order to build authority.
I believe that vertical specialization is superior to other forms of specialization, to the point of potentially being a "silver bullet".
I believe that podcasting is the best type of content to publish for authority.
I believe that marketing can be as simple as teaching what you know.
When I list them out like this, there's a few things that I notice.
First, you can feel the controversy in many of them, it's almost jumping off the screen. (But yet I know they're defensible.)
Secondly, I don't just have one opinion, my point of view is made up of many different interlocking elements. I'm sure that political, cultural, and other beliefs come into this to some degree.
In fact, I think it's the unique combination of these interlocking opinions that make it a distinct point of view. And that's what sets you apart from the crowd.
Going back to Jonathan, Blair, and Alan: from my perspective – apologies for getting a bit meta – their point of view is encapsulated in a primary idea.
That primary opinion is the tip of the spear, and can even be a catchphrase. In Jonathan's case, it's the wonderful "Hourly Billing is Nuts" and he's able to tweak that to call his podcast "Ditching Hourly".
The catchphrase is the headline or lede. It grabs attention but does not explain the whole.
In fact, it requires explanation and defense, otherwise it could feel like clickbait. But you don't have space to defend it in a headline, and so that argument must be contained in the content.
Thus the point of view exists as a single headline opinion, and as a group of opinions, and as those opinions and their justification.
They are not necessarily laid out and defended in every piece of content – in fact that's simply not possible.
But the opinions remain lurking beneath the surface, like the hidden mass of an iceberg, or the foundations of a building. Everything visible is resting on top of this structure.
Let's bring this it back to a practical approach to help you in figuring out your point of view.
5 C's Point-of-View Formula
Start with your opinions related to the problem you help your ideal clients solve. Here's my "5 C's Point-of-View Formula" which provides some prompts to help you get started, and use my examples above as a starting point if it helps.
COMMON BELIEFS: What commonly held beliefs do you passionately disagree with?
COMMENCE: What should your clients START doing
CEASE: What should your clients STOP doing?
CANCEL: Are there any myths that you want to debunk?
CONCEPT: What concept do you want to pick a fight with?
Especially think about opinions that seem counter-intuitive (i.e. just plain wrong) if you leave out the explanation.
List these all on paper or in a document (or spreadsheet like I do)!
Wordsmith a bit – simplify, reword, consolidate, so that you end up with a list of 5-15 point of view opinions.
For each opinion, add a note justifying why you believe it. For example:
"I believe that inbound is superior to referrals because inbound leads are already familiar with your processes, thinking and ways of working, turn up already sold on working with you, and are typically not price buyers."
The list of beliefs and justifications – or opinions and arguments, whatever you want to call it, the list IS your point of view.
Now you can start to figure out how to use it.
Think about what opinions are most important and what you could lead with. Think about how to reveal your points of view in conversations and in your content.
The opinions that seem counter-intuitive without explanation quite often make for great attention grabbers – use them for webinar and podcast titles, email subject lines and even as your actual brand name.
(It will feel a bit vulnerable putting an opinion out there without having the backup argument along side, but so long as you can justify it I think it's worth the risk).
Not everyone can do what Jonathan, Blair and Liston Witherall have done, but if you can actually make your point of view your brandname, that's even stronger:
Ditching Hourly
Win Without Pitching
Serve, Don't Sell
In fact, that's the reason I rebranded from "Marketing for Consultants" to "The Recognized Authority" last year. It's not quite as catchy as some of the others, but it's much more in line with my beliefs around marketing.
Now, over to you: do you already have a point of view that you use in your marketing? Do you have a lead opinion that is slightly controversial? If not, are you going to take action on this article and develop one?
I'd love to hear from you – please let me know more about your point of view, and your thoughts on point of view.
And if you want help, I've been helping some of my 1:1 coaching clients to develop a point of view. If you'd like to learn more about how I might be able to help you, let's set up a call to chat.