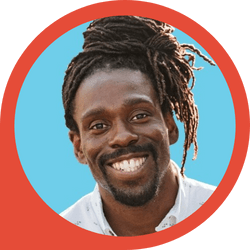 In this episode of The Recognized Authority, Alastair speaks with Cam F. Awesome, a professional speaker and one of the most successful boxers in US boxing history. They discuss how Cam's background in boxing has helped him develop a unique perspective on overcoming adversity, using humour to engage audiences, and the overlap between performing in the ring and at the speaking podium.
Cam's story highlights the power of a winning mindset, the importance of mental toughness, and the value of embracing failure as part of the journey to success.
Cam's philosophy is based on a simple equation: 1+2=3. He shares how this equation helped him become a National Champion in boxing within two years of taking it up. Cam believes any anyone can use it to achieve their goals. 
The key is believing in yourself (1), setting a clear goal (3), and doing the hard work (2) required to achieve it.
During the conversation, Cam shares his experiences with failure and how he used it to succeed in his boxing career. He talks about the importance of mental toughness, gratitude, and developing a winning mindset. He also discusses how he didn't make it to the Olympics despite qualifying three times, but he used the experience to become a better boxer and to keep pushing himself to succeed.
This was a fascinating conversation that reminds us that with hard work, a winning mindset, and the courage to embrace failure, we can achieve incredible results.