This is my AI policy when it comes to content creation, especially for my books, blog posts, and social posts, and why I think a lot of people are NUTS.
I'd love to hear your take.
First, for context I'm talking about using tools like ChatGPT, Claude, etc.
I'm going to break AI into 5 levels (numbered 0-4, because zero AI usage is level 0):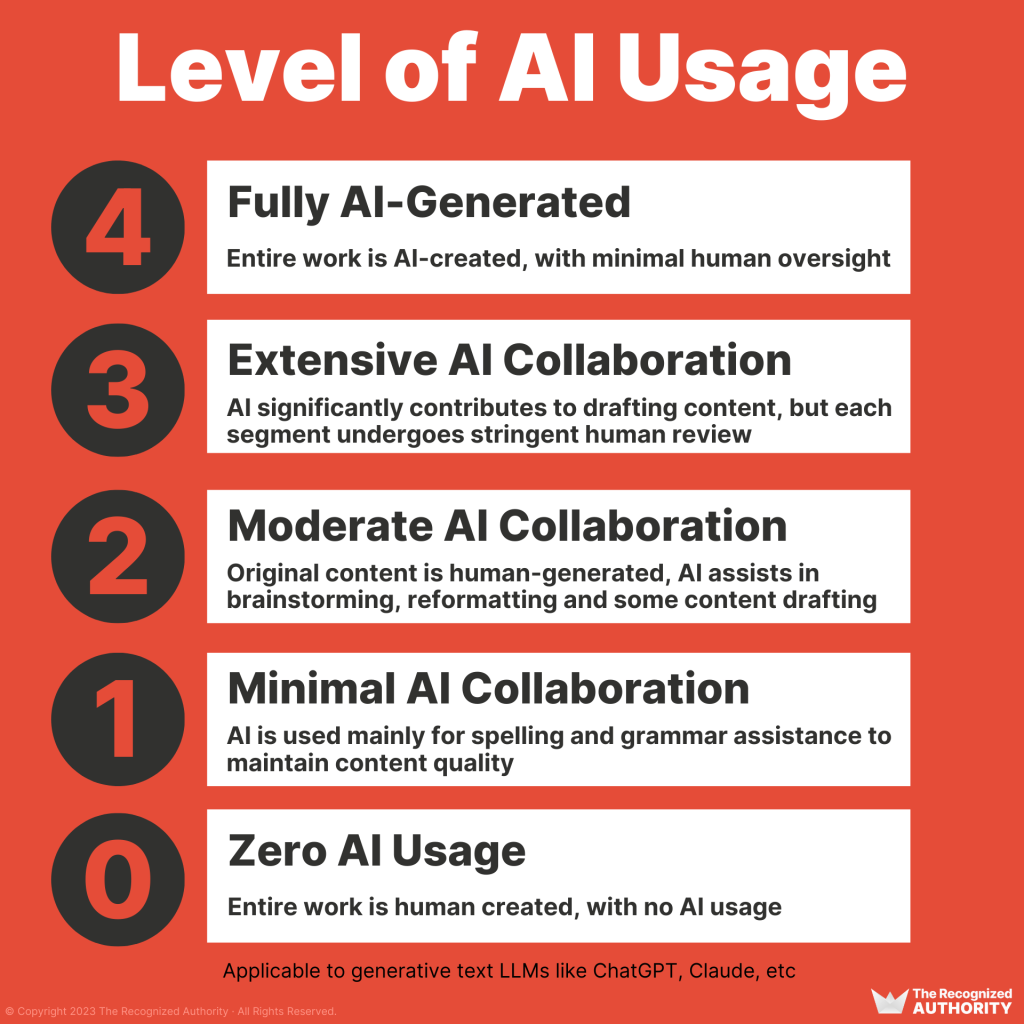 🤖🤖 Level 4: Fully AI-Generated
Entire work is AI-created, with minimal human oversight.
👥🤖 Level 3: Extensive AI Collaboration
AI significantly contributes to drafting content, but each segment undergoes stringent human review.
👥💡 Level 2: Moderate AI Collaboration
Original content is human-generated, AI assists in brainstorming, reformatting and some content drafting.
👥✅ Level 1: Minimal AI Collaboration
AI is used mainly for spelling and grammar assistance to maintain content quality.
👥👥 Level 0: Zero AI Usage
Entire work is human-created, with no AI usage.
Ok, that's the context.
My policy is simple:
🔄 I regularly use AI at Levels 1, 2, and 3.
📜 I mostly tend towards Level 2 currently.
That means I use it for brainstorming (a lot), reformatting, drafting some content (especially titles).
You might wonder why – as a fan of AI tools – I lean more towards Level 2 rather than 3.
It's not because I have reservations about it; it's because current AI tools still have major limitations in tone of voice and writing style. It just isn't there yet.
🥜 I think you are NUTS if you're using it at Level 4 (fully AI-created) OR Level 0 (no AI usage).
If you're using AI to fully-create text with minimal or no human quality control, you're generating ineffective garbage that won't work for your business. Please stop. Learn how to use these amazing tools.
And if you're not using AI at all, you're crazy. It's the equivalent of an accountant refusing to use a spreadsheet or calculator.
Balance is crucial. You can take advantage of AI's amazing capabilities while maintaining the quality and originality that only a human touch can provide.
👇 Your Take?
I'd love to hear your thoughts on AI usage in content creation. What's your AI level? Are you a Level 0 traditionalist, a Level 4 risk-taker, or somewhere in between? Have I offended you by calling you nuts 😇 ? Let me know – I posted this on LinkedIn and I'd love to hear from you in the comments section there.
Update
Here's a table with features of each level:
| Levels | Spelling & Grammar | Brainstorming | Content Reformatting | Content Drafting |
| --- | --- | --- | --- | --- |
| Level 4: Fully AI-Generated | 🤖 | 🤖 | 🤖 | 🤖 |
| Level 3: Extensive AI Collaboration | 🤖 | 🤖 | 🤖 | 🤖 |
| Level 2: Moderate AI Collaboration | 🤖 | 🤖 | 🤖 | 👤 |
| Level 1: Minimal AI Collaboration | 🤖 | 👤 | 👤 | 👤 |
| Level 0: Zero AI Usage | 👤 | 👤 | 👤 | 👤 |