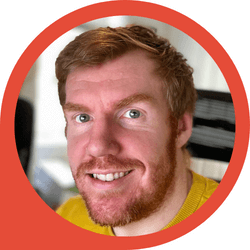 Special bonus episode: Bland Content and Burnout with Craig Burgess
This is a special bonus episode of the podcast, and it's very different from our usual interview episodes. It's a behind the scenes look at an impromptu conversation between Craig Burgess and I.
This is the first time I ever spoke to Craig and I thought our conversation was really interesting, and might be useful for someone out there to listen in. When we started chatting we had no intention of publishing this publicly, but as you'll hear in the recording I ask Craig for his permission to share it at the end because I thought it was might be of value to you.
The intention of the call was to talk about content creation and burnout, and we hit record about 5 minutes into the conversation as just as Craig explains to me what he wants to ask me about.
It's not amazing quality because we recorded our call on Zoom rather than the recording studio that I normally use, because it was originally intended for broadcast.
It's a longer episode at just over an hour, and if you prefer the interview format episodes, feel free to skip this one.