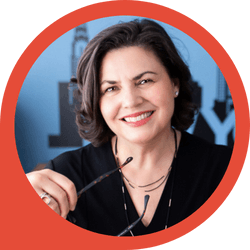 Discover the secrets to planning and launching a compelling podcast or livestream show in this enlightening episode of The Recognized Authority.
Host Alastair McDermott, a business coach and marketing strategist, invites back Nina Froriep, video marketing expert and founder of Clockwise Productions. Nina shares her goals for starting a new podcast or livestream show – to bring on high-profile thought leaders in her industry, create valuable clips and assets, and attract potential clients.
Alastair dives deep into the steps for creating an engaging, audience-focused show. They discuss ideal podcast length, repurposing existing content, choosing a compelling title, episode formats, promotion strategies, and more. Alastair emphasizes focusing on serving the audience while meeting your own goals. Nina asks insightful questions about scheduling live versus pre-recorded shows, mixing solo and interview formats, usingseasons, and keeping hands-off with outsourcing.
0:00 Introduction
2:23 How to get the most out of interviews with high-profile guests
5:56 Ideal podcast length
7:41 Tips for an effective show intake form
16:45 Being personally revealing builds authenticity
17:54 The power of audio-only content vs. video
22:32 Options for partnerships and sponsorships
23:25 Starting before you're ready
24:46 Using AI tools to streamline production
32:33 Crafting titles that communicate benefits
39:05 Promoting right from the start for growth
45:10 Choosing a compelling podcast title
1:04:45 Passion for your podcast topic
1:09:36 Repurposing existing content into episodes
1:23:37 Key takeaways and action plan
The discussion provides an inside look at the podcast planning process from experienced pros. Nina leaves with clarity plus an action plan for launching a show that attracts her ideal clients.
Whether you're thinking about starting your own business podcast or improving an existing one, don't miss the tactical tips in this episode!