TL;DR summary:
Every weekday for November I'll be doing a live stream at 3pm Dublin/London, 10am Eastern, 7am Pacific 
Topics related to B2B marketing, lead generation, websites and inbound marketing for consultants. You can vote for topics. See bottom for links.
Yes, this terrifies me. But I need to do it.
I've been looking at a post-it stuck to my monitor for about three weeks now. It reads "Content First."
(It's right next to another post-it that says, "Say NO more often" – and they are related, but that's a post-it for another day.)
When I surveyed over 1,000 consultants about their business, marketing and lead generation, one of the questions that I asked was:
"What do you know you should be doing, and why are you not doing it?"
The answers varied wildly on what they thought they should be doing.
"I don't have time for that right now"
But there was a definite pattern to the why they're not doing it: over 50% of respondents said, some variation of "I don't have the time for that right now".
Other answers included lack of budget, and lack of a clear plan. But for the majority,  lack of time is the reason for not working on things like marketing and content creation.
Is it really lack of time?
When I hear a mentoring client say "I don't have the time", to me that means "it's not a priority for me". I recently had a chat with consultant – and prolific author – Richard Newton, and he has a slightly different take on this, which is that "I don't have the time" really means "I won't commit to it because I don't believe that it will work".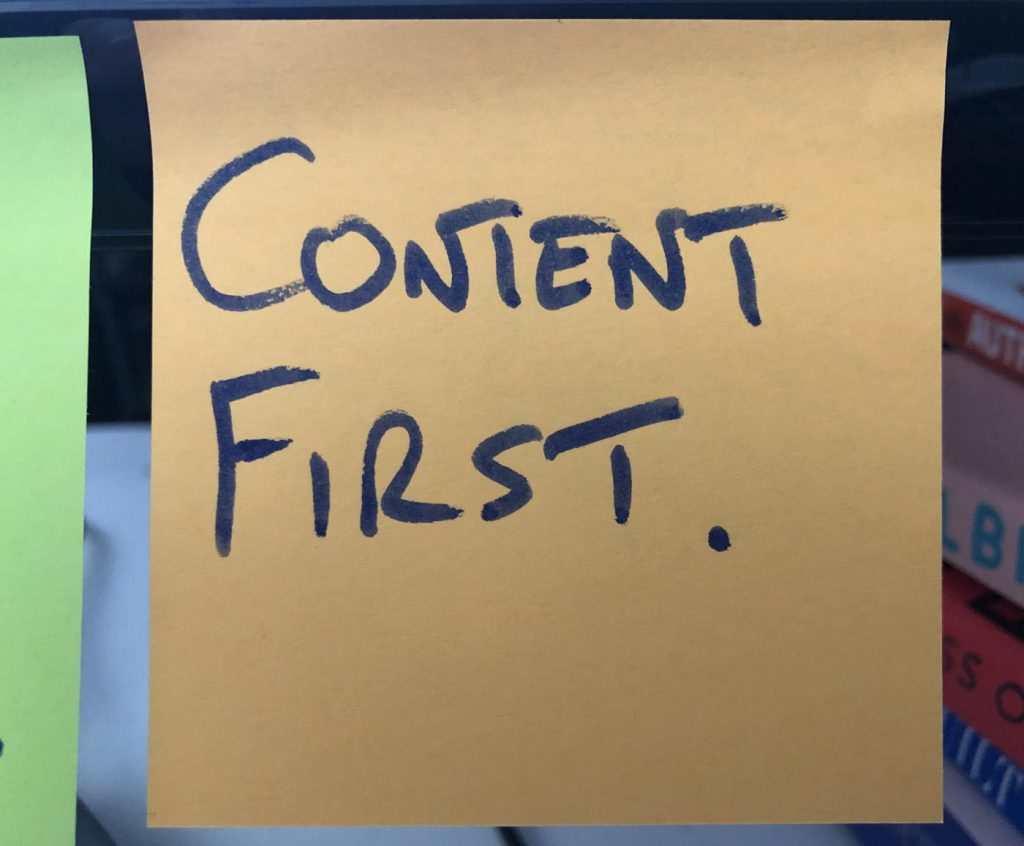 Bringing this back to the post-it "Content First".
For the past six months – since COVID first locked us down – I have been incredibly busy. In fact, it feels like I've been on a treadmill or hamster wheel of work.
I'm very privileged to be busy during a time when a lot of people are having difficulties in their business,  particularly in hard hit sectors like hospitality and tourism.
But I also feel like I have fallen into what Jonathan Stark calls "the hourly rate trap", which is where you are on this hamster wheel of doing work that creates value while you are working, but does not create any future value.
And don't get me wrong, it's important to earn money, particularly in these uncertain times. As Sequoia Capital put it bluntly in their infamous "RIP Good Times" presentation in 2008 "Become cash flow positive as soon as possible".
And so I "haven't had time" for content.
Feeling the pain of opportunity cost
But lately, I've really been feeling the pain of opportunity cost. Where I know there is something that I should be doing, and I have not been doing it. Because I've been on that hourly rate hamster wheel.
The thing that I should be doing – and if you're reading this I think you probably should be doing it too – is CREATING authority-building, educational, interesting CONTENT that helps my clients and potential clients solve their problems. Along the way it demonstrates expertise and builds trust.
Last year, I took what felt like a very risky step of niching my business down, and I immediately started to feel the benefit of doing so, in writing.
For 12 years in business, I had been finding it difficult to write blog articles more than once a quarter. After niching down, suddenly writing several times a week felt possible. That's one of the massive benefits of specialization, which I've written more on here.
Let me tell you a quick joke, but first, let's take a look at my 2020 Business Plan… 
(Yes, that was the joke. No, I won't quit the day job!)
When the impact of COVID-19 started to be felt in early to mid March, all of my 2020 plans went out the window. But now we are well past the initial fire-fighting stage,  and it's time to get back on the horse.
For me, that means it's time to live up to the post-it note and prioritise creating content again: putting content first.
Daily Live Stream every week day in November
Here is what I am going to do for the month of November: every weekday I'll be doing a live stream at 3pm GMT, 10am Eastern, 7am Pacific. They'll be anything from 10-60 minutes in length, depending on the topics and questions asked.
Topics covered will be anything related to B2B marketing, lead generation, websites and inbound marketing for consultants. I have a longer list of ideas and you can suggest ideas and vote for topics online here – I'd love to get your feedback on the format, topics, and presentation. I imagine that I'll start off with some low-hanging fruit for the first week, and see where it goes from there. Some of them might be informal webinar type presentations, others will be more open format – we'll see.
The best place to find this will be on my YouTube channel MarketingforConsultants. I also hope to be simultaneously broadcasting to Facebook and possibly LinkedIn, but definitely on YouTube. I will update this post on my website with links on Monday 2nd November. I'll send updates to this email list once or twice a week with links to recordings and short summaries.
Yes, this does terrify me.
But I really need to kick start my content creation, and I think it helps to do thinking out loud, so I'm going to do it anyway. Please be kind when I inevitably mess up – it's live! 🙂
I'd love to get your feedback on the format on the topics on the presentation. And any other suggestions or questions you have? Say hello on Twitter @WhatStrategy