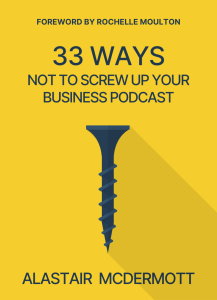 Over the past few months, I've been working on a new book, about podcasting.
It's going to be part of Networlding's "33 Ways" series, and so it will be called:
33 Ways Not To Screw Up Your Business Podcast
The book will be available in paperback and ebook format.
Here's some nice things people have said about it so far:
I was happy to read 33 Ways Not To Screw Up Your Business Podcast. And happier still when I saw how perfectly Alastair oriented this book to new podcasters ready to tackle building their authority in public.

Once this book is in your hands, you'll not only read the whole thing, you'll be ready to immediately put the lessons into action for your business.

Read it fast—then read it again and take notes. Then buy a copy for everyone you know who is procrastinating on starting their business podcast.

Rochelle Moulton
Author, The Authority Code: How to Position, Monetize and Sell Your Expertise
California, October 2022
and
I've been podcasting for over a decade, and still I got a few great nuggets from Alastair's book.
It's clear, concise, and pragmatic – perfect for anyone new to podcasting.
If you're serious about starting your first business podcast, I guarantee that reading "33 Ways Not to Screw up Your Business Podcast" will be well worth your time and money.
— Jonathan Stark, author of "Hourly Billing Is Nuts", host of the "Ditching Hourly" podcast and "The Business of Authority" podcast
and
Bloody LOVE it!
A great book that cuts to the chase and delivers a distilled version of what anyone with podcasting dreams needs to know.
The highlighted importance of getting clear on what you want your podcast to do for your business is insightful.
Host of The Heads Together Podcast, business coach & consultant
The release day is yet to be confirmed but likely to be sometime in November 2022.